MultiFEBE (Multi-domain Finite Element and Boundary Element linear mechanics solver)
MultiFEBE is a multi-domain Finite Element and Boundary Element linear mechanics solver. It implements mixed-dimensional couplings between finite elements and boundary elements. It is a general-purpose implementation of our BEM-BEM and BEM-FEM coupling methodologies
(see Publications). It is available for Windows and GNU/Linux 64 bits.
Download source code and binaries
Screenshots of the included examples of Offshore Wind Turbines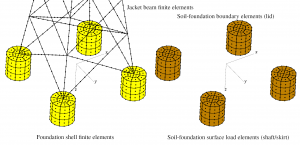 Financing
This work has been developed with the support of research projects:
PID2020-120102RB-I00, funded by the Agencial Estatal de Investigación of Spain, MCIN/AEI/10.13039/501100011033.
ProID2020010025, funded by Consejerı́a de Economı́a, Conocimiento y Empleo (Agencia Canaria de la Investigación. Innovación y Sociedad de la Información) of the Gobierno de Canarias and FEDER.
BIA2017-88770-R, funded by Subdirección General de Proyectos de Investigación of the Ministerio de Economı́a y Competitividad (MINECO) of Spain and FEDER.